v5.0
Direct deposit* can save you time and headaches when it comes to getting your employees the money you owe them. OnPay gives you two convenient ways to pay your employees. The first is to manually produce checks by either handwriting them or printing them out of the system. The second is to use our direct deposit service, and have OnPay deposit the funds in the employee's accounts on pay day. 
Once you have been approved to use our Direct Deposit Service (you can find instructions on how to apply here), your next step is to add your employees' bank account information. 
Step 1: Make your way into your employee list and choose the employee you need to add direct deposit accounts on.
Step 2: Once you have chosen the employee and you open their profile, make your way to the "Pay" tab and scroll down until you see the Direct Deposit section. If you do not see that section then you have not yet been activated to use direct deposit. If this is the case, give our customer service team a call, or chat us and see what is going on.
Step 3: Once you find the Direct Deposit section choose the "Add/Edit Accounts" button to get started.
Step 4: Enter your password to authenticate yourself as the user. This is to prevent someone from getting into your account because of a saved password and editing your employees' bank accounts.
Step 5: Choose Add New to begin setting up the employees account.
Step 6: Enter the information requested in the window:
Order Number: The Order Number tells OnPay the order in which you want us to deposit money into employees bank accounts. If they have only one account then you will always enter '1'. YOU MUST ENTER AN ORDER NUMBER.
Routing Number: Employees 9-digit routing number found on one of their checks. This must come from a check, and cannot come from a deposit slip. Failure to enter this correctly could cause the bank to reject the transaction, or even possibly cause the money to be deposited into someone else's account. 
Account Number: Employees account number found on their check. Please include all leading zeroes in the account number. If this number is incorrect, then the money could be deposited into the wrong account.
Percent of Net: The most common way to set up an account. If your employee only has one account, then you will always enter '100' in the percent box. That tells OnPay that you want 100% of the net pay to go to that account. If you enter in multiple accounts, then you will always want the last account (account with the highest order number) to be set to 100%. Failure to enter a percentage will result in the funds not being deposited to the employee.
Flat Amount: A flat amount of the net paycheck will be deposited to an account if you enter that amount here. Only to be used when you are entering multiple accounts for deposits. Such as, when you have $100 go to a savings account (order 1, amount $100), and the rest of the pay to a checking account (order 2, 100%). 
Savings Account?: If the account you have entered is a savings account then you must indicate it by checking the box.
Step 7: Once you have completed the page click +Create. Then click the X at the top right-hand corner of the Add a New Bank Account window.
Step 8: Review the data you have entered, and if necessary add another account.
Here is an example of what it might look like if you have multiple accounts:
Once you are finished adding accounts you can click the X in the top right-hand corner of the Edit Accounts box to exit the setup. Verify that the Active box is checked, and you will also be able to see the bank accounts you have added along with the last 4 digits of both the routing and account numbers.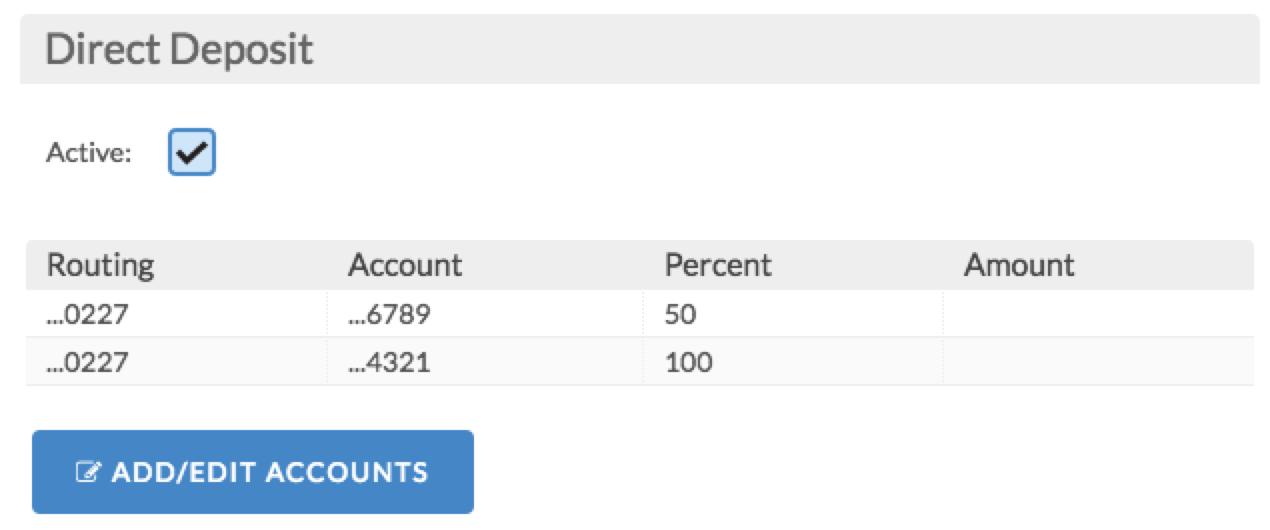 *Direct deposit requires a risk assessment of your company and the primary signer of the agreements. Not everyone can be approved.